Minnesota State Patrol
Say hi to the Minnesota State Patrol at the Twin Cities Auto Show!
Troopers can talk about their mission to keep people safe on the road and answer traffic-related questions from visitors. The State Patrol's traffic safety work helps Minnesotans stay safe and encourages people to slow down, plan a sober ride, pay attention, and buckle up.
State Patrol Vehicles at the 2023 Twin Cities Auto Show.
Check back to see what they will bring in 2024.
1954 Ford
The 1954 Ford is a replica of the patrol cars used during the State Patrol's 25th anniversary year. Looking very simple by today's standards, it has everything a patrol car needed in 1954. It is equipped with Ford's new for 1954 overhead valve Interceptor V8 engine, 4-barrel carburetor, dual exhaust, and 3-speed manual transmission. Equipment added by the State Patrol includes a 2-way radio, emergency lighting, and siren. The State Patrol cars were purchased in a variety of colors in 1954. The now familiar maroon paint debuted in 1958.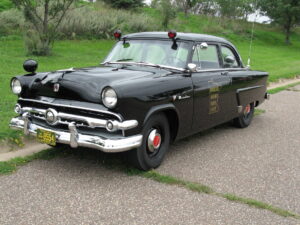 1979 Dodge St. Regis
The 1979 Dodge St. Regis is an actual surviving patrol car originally issued to a trooper in the Owatonna area. It saw patrol service for only a short time before it was reassigned and used for displays, parades, and other civic events in celebration of the State Patrol's 50th anniversary year and continues to serve in this capacity 42 years later. The Dodge is equipped with a police version of the 360 cubic inch V8 with Torqueflite automatic transmission, dual exhaust, and a host of other police-only components.