Visit the Electric Vehicle Neighborhood Powered by Xcel Energy to get up-close to the latest electric vehicle options and learn more about electric vehicle technology.
The 2024 Electric Vehicle Neighborhood is TWO TIMES BIGGER than ever before.
What is the Electric Vehicle Neighborhood? 
This dedicated space is located on the Main Floor of the Twin Cities Auto Show and provides a fantastic opportunity to learn about the latest Electric Vehicle (EV) options and experience test drives. It's a valuable resource for those interested in transitioning to electric vehicles and for those who want to keep up with the latest in automotive innovation.
What does it cost to visit the Electric Vehicle Neighborhood? 
It is FREE with your Twin Cities Auto Show tickets.  Ride and Drives are also included!
How does the Electric Vehicle Test Drive work? 
You can sign-up to test drive one or more electric vehicles in the Electric Vehicle Neighborhood.  A professional driver will acquaint you with the vehicle and ride along on your test drive.  We have routes pre-determined to make it a convenient and comfortable experience. Here is more information:
Drivers must be 18 years of age or older with a valid driver's license.
Passengers are welcome.   Booster seats and car seats are not allowed. Passengers must meet age and weight requirements to be forward-facing with a seat belt.
Drivers and passengers must sign a waiver of liability and provide follow-up information.
You may be asked to pass a Breathalyzer test in order to participate.
Professional drivers are onsite to give rides if you would prefer to experience the vehicle while they drive.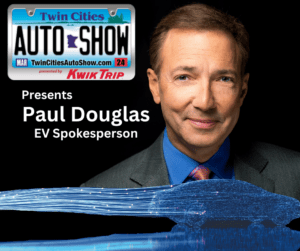 Click here to check out Paul Douglas's experience when he
test-drove EVs at the Twin Cities Auto Show. 
What is the Xcel Energy Garage? 
The life-size Xcel Energy Garage is located in the Electric Vehicle Neighborhood.
This experience will allow you to see how low-impact and convenient electric vehicle ownership can be, especially when you can charge your vehicle right in your own garage. We look forward to sharing this demonstration with you and helping you make an informed decision about electric mobility.
Xcel Energy and EV Enthusiast are always onsite to help answer questions.
Photos from the Electric Vehicle Neighborhood: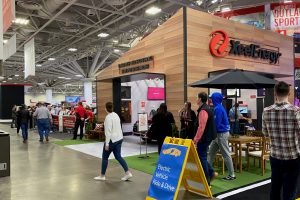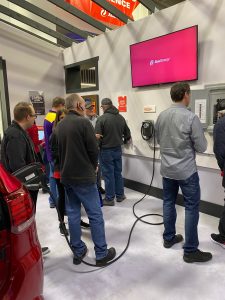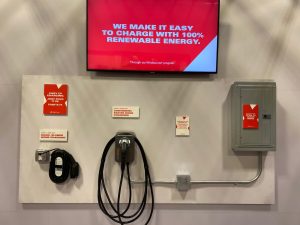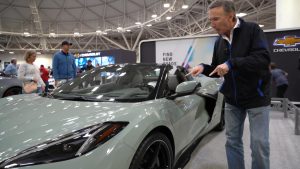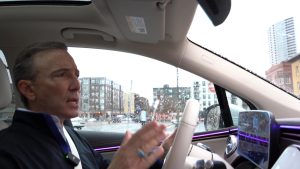 Did you know?
The cost of driving electric can amount to approximately $1 per gallon equivalent.
With federal tax credits and manufacturer rebates, electric vehicles are becoming more affordable.
Without a tailpipe, battery electric vehicles remove carbon emissions from the road, which is great for our environment.
In Minnesota, there are currently nearly 450 public charging stations available today, and that number is growing every year.
Over 80% of EV charging happens at home. Xcel Energy offers low-cost energy to charge overnight.
Stop by the Xcel Energy EV Garage to learn more about electric vehicle charging, benefits to the environment and savings.