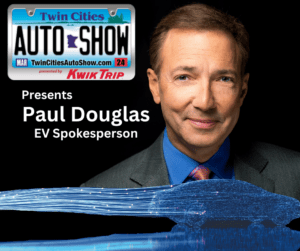 Paul Douglas – Official Electric Vehicle Spokesperson for the Twin Cities Auto Show
Paul Douglas is back for another year as the Electric Vehicle spokesperson for the Twin Cities Auto Show.
Paul's passion for automobiles and his appreciation for speed, torque, technology, comfort, and the unique characteristics of each vehicle is truly infectious. It's enthusiasts like him who make the automotive world such an exciting and dynamic place. We are proud to share his enthusiasm and passion.
Paul is a member of the American Meteorological Society Fellow and has 45 years of media experience. He is also an advocate for lowering our carbon footprint and is an EV owner. The Twin Cities Auto Show will tap into his experience and passion as the Electric Vehicle Spokesperson for the show.
Paul will be onsite to test drive electric vehicles. We will film his experiences and share them on twincitiesautoshow.com and on social media. These cars are new and exciting but don't take our word for it. Check out what Paul has to say.
Here are videos from Paul's driving experiences at the Twin Cities Auto Show.
Paul Douglas Test Drives at the Twin Cities Auto Show